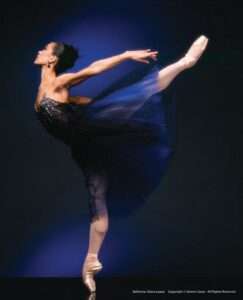 Mrs. Lopez' career began at home in Venezuela and continued through the San Francisco Ballet, the Cleveland Ballet and as soloist with the Deutsche Opera Berlin and the Deutsche Opera am Rhein in Dusseldorf, then in 1987 she became the Prima Ballerina with the Miami City Ballet where she remained for eighteen successful years.
As a guest principal dancer she has performed for different Ballet companies internationally as well as the most important Dance Festivals and Galas of Stars in the World.
She performed all of the leading roles in the classical repertoire as well as in the works by Balanchine, Bejart, Hans Van Manen, McMillan, Petit, Nebrada and Kylian, among others.
During her years with the Miami City Ballet, Mrs. Lopez performed all the leading roles in Theme and Variations, Tchaikovsky Pas de Deux, Bugaku, Agon, the Four Temeperaments, Bugaku, Allegro Brillante, Serenade, Scotch Symphony, La Source, the Prodigal Son, Raymonda Variations, Slaughter on Tenth Avenue, Concerto Barroco, Emeralds, Rubies and Diamonds, and many others, she also originated many of the principal roles of the company repertoire such as Carmen, Prokofiev Piano Concerto, La Casa de Bernarda Alba, D Symphony, Aria, Purple Bend, Concerto for la Donna and Tobiniana.
She received much deserved National and International recognition from respected critics, being featured on the cover of many important Dance magazines including, Dance Magazine (1997), Pointe Magazine (2000) and Dancer Magazine (2004).
Her dedication and passion for her career earned her special awards such as the Orden Arturo Michelena in Venezuela, the Key of the City of Baton Rouge in Louisiana where she was declared "Honorable Mayor" , the Proclamation of Miami-Dade County by Mayor Alex Penelas, the Proclamation of the City of Hialeah by Mayor Raul Martinez, who declared "March 12th" the Iliana Lopez Day, a special award for her contribution to the Arts in Naples, Florida and a special award from the Jackie Gleason Theatre for her outstanding contribution to the Arts in the city of Miami Beach.
Recently she was selected by the National Museum of Dance in the United States to put her pointe shoes in their permanent exhibition.
She performed for former Presidents Gerald Ford and Bill Clinton and Ex-First Lady Hillary Clinton being invited afterwards to the White House, the Ex-Prime Minister of Israel Isaac Shamir, and Princess Caroline of Monaco.
Since her retirement in 2004, Mrs. Lopez has worked as Ballet Mistress and répétiteur for the Miami City Ballet, Ballet Gamonet, Ballet de Monterrey in Mexico, Ballet de Santiago in Chile, Ballet de la Opera de Bordeaux in France and as guest touring Ballet Mistress with Les Ballet Trockadero de Monte Carlo.
Since 2012, Mrs. Lopez serves as Artistic Director at Gulfshore Ballet in Fort Myers, Florida.