The Jimmy Gamonet de los Heros Trust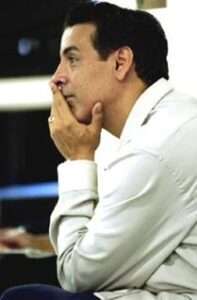 Jimmy Gamonet de los Heros; choreographer, ballet master and artistic director
The works of Jimmy Gamonet De Los Heros have been performed throughout North America, South America and Europe, and include near three dozen set on the dancers of Miami City Ballet. In 14 years as Resident Choreographer and Ballet Master of Miami City Ballet, he created a signature style for that company, beginning with its opening performances in 1986.
Mr. Gamonet's works have been commission/underwritten by AT&T, The Wolf Trap Foundation, The Catherine Filene Foundation, The National Endowment for the Arts, Jacob's Pillow, Neiman Marcus, Barnett Bank of South Florida, The Firm of Steel Hector & Davis and The Windmere Corporation, among others.
Mr. Gamonet's work in ballet's neoclassical style — both abstract and narrative – has been noted and rewarded at a national and international level. He has received three separate Choreography Fellowships from the National Endowment for the Arts, including the prestigious three-year Fellowship in 1990, awarded to artists whose "work on a level of national excellence over time extends the aesthetic boundaries of the discipline". His other NEA awards include a one-year fellowship in 1989 and a two-year Fellowship in 1994. The State of Florida also recognized his accomplishments with Choreography Fellowships in 1993 and 1995.
In 1997, Mr. Gamonet developed a course curriculum for an innovative Choreographers Workshop. His mission: to build a training program with a final goal of educating, nurturing and encouraging aspiring choreographers to continue serious work in the field of classical dance. With funding through the Catherine Filene Shouse Foundation, the Choreographers Workshop was initiated as a three-year pilot program at Miami City Ballet with Mr. Gamonet as the Workshop Director. For several years Mr. Gamonet has been a member of the National Endowment for the Arts' Dance Advisory Panel. In 1999, 2001 and again in 2003, he was invited to judge the International Ballet Competition in Trujillo, Peru.
In recognition of his contributions to the art form, Mr. Gamonet was one of eight choreographers chosen in 1992 for the National Repertory Program. (The NRP is supported by the NEA, the Philip Morris Companies, and the Lila Wallace Reader Digest Fund to subsidize choreographic acquisitions for American professional repertory companies.) Under the NRP grant, the Ballet Concierto de Puerto Rico commissioned Mr. Gamonet to set a version of Carmen on its dancers, which received its New York City premiere at the Joyce Theater in 1995. The collaboration between the choreographer and the company has continued: in May 2000, Ballet Concierto de Puerto Rico commissioned "Pico Rico Mandorico", a new work based on a novel by acclaimed Puerto Rican writer Rosario Ferré. The ballet, made possible in part through a grant by the National Endowment for the Arts, premiered in Puerto Rico as part of an all-Gamonet program in March 2001.  All evenings of his works have also been presented in Bogotá and Cali, Colombia.  In 2003 Mr. Gamonet began his first collaboration with Ballet Florida with the premiere of Jubilo, with music by American composer Wynton.
Among the most celebrated of his works include Nous Sommes, D Symphonies, Purple Bend I and II, Concerto for La Donna, Reus, Miniatures, Danzalta, Movilissimanoble, La Casa de Bernarda Alba; with an original score by Broadway composer Richard Adler and funded in part through the NEA's Creation & Presentation awards, The Big Band SUPERMEGATROID; a Wolf Trap Foundation commission honoring its 25th Anniversary Season and Transtangos (considered the signature ballet of Miami City Ballet), Prokofiev Piano Concerto, Partita, Grand Pas Classique, Carmen and Jubilo.
Other recognitions for his creative efforts include, the 2000 Bill Hindman Award; given by the South Florida Critics Circle and the Theatre League of South Florida, for career artistic achievement and significant contributions to the artistic development of the performing arts. The Hispanic Heritage Council Award; in recognition for his significant efforts between the people of the Spanish speaking countries and the U.S.A.  The 2003 Arts Recognition award given by the Governor of La Libertad in Peru; for his ongoing contributions to the art form.
He was a leading dancer with Ballet Moderno de Camara, directed by Hilda Riveros; the Peruvian National Ballet, directed by Vera Stasny; Ballet Peruano, directed by Kaye Mackinnon de Pacheco, Ballet de la Asociación Choreartium de Lima (now known as Ballet Municipal de Lima), directed by Lucy Telge de Linder. He first choreographed for the latter two companies when he was just 17.  He was also a leading dancer with Ballet Du Nord in France.
Mr. Gamonet began his stage career at a very early age with Francisco Gamonet Productions, the theatrical company directed by his father. He toured as an actor through the age of 13, when he began his dance studies. While in his teens, he performed on Panamericana Television and in musicals under the direction of Peruvian choreographers Armando Barrientos and Eugenia Endo; he also choreographed several TV commercials in those years.  At 22, he choreographed and staged plays for Lima's Broadway series (Mary Poppins, among others).
He received Gold Medals in both the Performance and Choreography categories at the 2nd International Dance and Choreography Competition in Peru in 1979 and, in 1980, participated in the Third International Ballet Competition in Osaka, Japan. In 1983, he won the highest award for Choreography at the Dance Competition of the Americas in Miami. He moved to the United States in 1980 to work with artistic director Bojan Spasoff, and in 1985 began his collaboration with Miami City Ballet.
In 2004, he founded his own company Ballet Gamonet where he had a successful 8-year run. After three decades, Jimmy returned to homeland of Perú as the Artistic Director of the Ballet Nacional del Perú. His success in elevating the company to international standards is well-documented.